Choosing between glazed door systems for a project can often be one of the trickiest decisions of a build – simply because they form such a visible and oft-used element of the finished home.
The selection is complicated because every single property is different and the priorities of how the doors will be used vary from home to home. Ultimately there is no right and wrong answer; it comes down to whichever system works best for you.
For more than 20 years IDSystems has set the standard for innovative glazing solutions, so to help you choose the right style of doors they have put together a quick guide and top tips.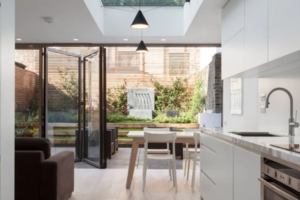 Best for budget / smaller openings – bifold doors
For smaller openings (typically under 3.5m) bifold doors really come into their own, their ability to completely open up an aperture is a huge draw. With smaller panes of glass and more straightforward installation bifold doors also typically tend to be a more cost effective solution for those working to a tight budget.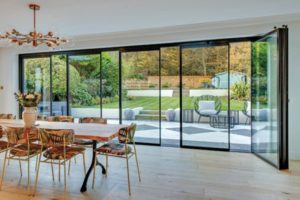 Best for connecting inside and out – slide & turn doors
With narrow frames like sliding doors but the ability to slide and stack the panels to one end like bifolds, IDSystems' exclusive vistaline slide and turn doors are capable of creating a completely flush track detail without reducing the weather performance of the system – perfect for creating a seamless connection between inside and out.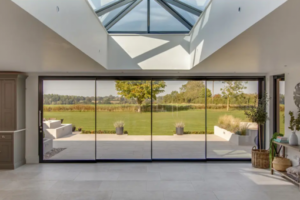 Best for making the most of a view – sliding doors
With huge panels and incredibly narrow frames theEDGE2.0 sliding doors are perfect for framing a view out or for drawing light in to your home to create bright, contemporary living spaces. The system is available in an almost infinite range of configurations, including openings up to a massive 24m wide, to meet the requirements of every project, from period barn conversion to an ultra-modern self-build home.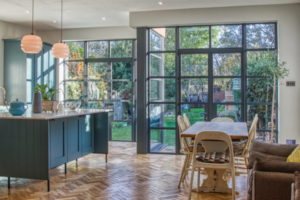 Best for more traditional properties – Heritage doors
These Art Deco inspired aluminium doors match the appearance of traditional forged steel doors with contemporary performance and security standards. Designed with slender horizontal bars the IDSystems heritage door range includes bifold, sliding or French doors and are perfect for those renovating a traditional property or wishing to add character to a more modern home.
For those wishing to create a stunning statement of design for their project then designing a space to incorporate a floating open corner, or opting for sliding doors that slide into a pocket behind the wall, could be the perfect option for creating a real 'wow-factor' for your home.
See more IDSystems products
Aluminium Windows – A hugely versatile range of aluminium windows with contemporary square edged frames that includes the ultra-narrow IDS300 Slim.
French Doors – A timeless classic of a double set of doors that open in the middle. Either on their own or paired with windows on either side.
Front Doors – Choose from one of 29 stylish aluminium front doors and then personalise it with a range of trim, handle and hardware options.
Website
info(Replace this parenthesis with the @ sign)idsystems.co.uk
Request a Quote