Financial brokerage Pure Structured Finance has analysed Government data to reveal the most desirable property changes of use in order of highest number of applications:
Agricultural to residential – 540
Office to residential – 459
Rental and sui generic uses to residential – 177
Light industrial to residential – 91
Shops to residential – 88
To state-funded school or registered nursery from various – 10
All other – 1,639
It seems characterful barn conversions remain popular and flexible working trends may be affecting development purposes.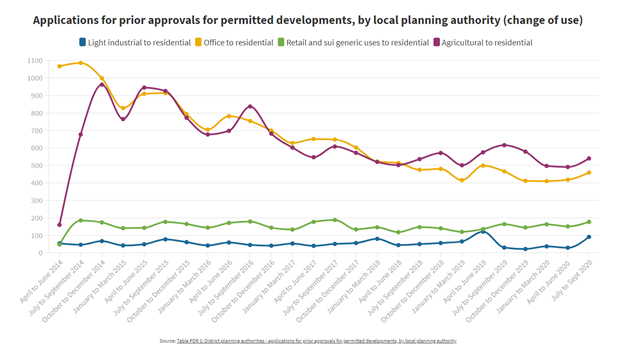 Between April 2014 and September 2020, the number of change of use applications from office to residential decreased gradually, as did the number of applications for change of use from agricultural to residential – suggesting fewer barn conversions than before.
Despite this, they remain the most common transformations.
The number of permitted development applications for retail or light industrial to residential has remained relatively stable, suggesting a steady amount of shops and factories are being transformed.
With many high street favourites such as Topshop, Debenhams and House of Fraser recently encountering financial issues, could we see this 'death of the high street' influence the number of applications for change of use in the coming months?
Well, a government consultation proposing easier conversion of commercial, business and service premises on our high streets to residential properties ended in January.
So, we'll wait with bated breath to see the outcome, but there is certainly interest in supporting new housing delivery.
Since the enactment of more relaxed permitted development rights in 2015, the total number of applications has been on a downwards trajectory.
However, following the introduction of new permitted development rules in Autumn 2019, many developers and homeowners decided to extend, and the number of applications rose slightly.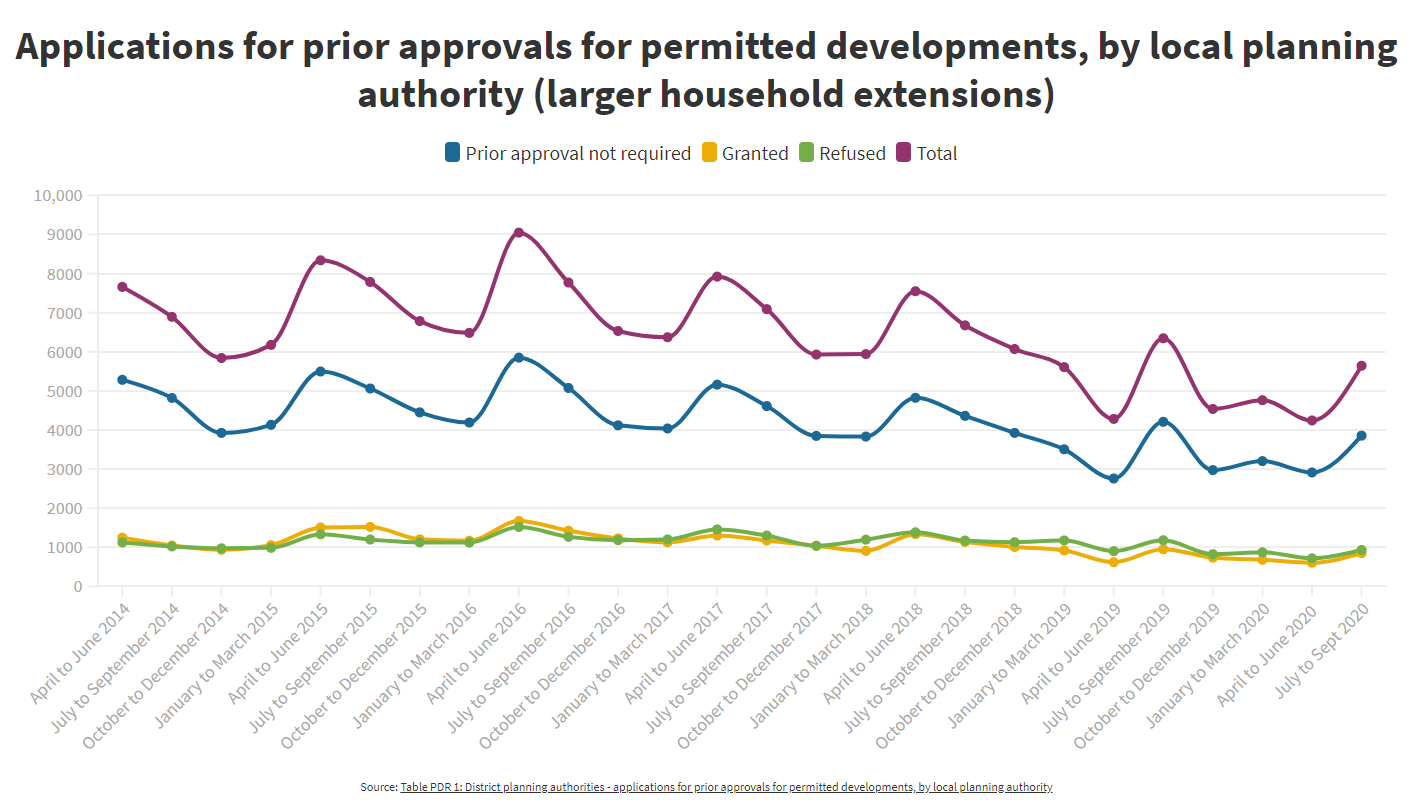 However, with the breakout of the Covid-19 pandemic in Spring 2020, our world came to a standstill and all numbers tumbled.
It wasn't until the latest figures in September 2020 that we see the industry beginning to recover to pre-pandemic levels.
Not only that, July to September 2020 saw a rise in total and granted applications for prior approvals for permitted developments, suggesting a knock-on effect from the quiet period where processing paused.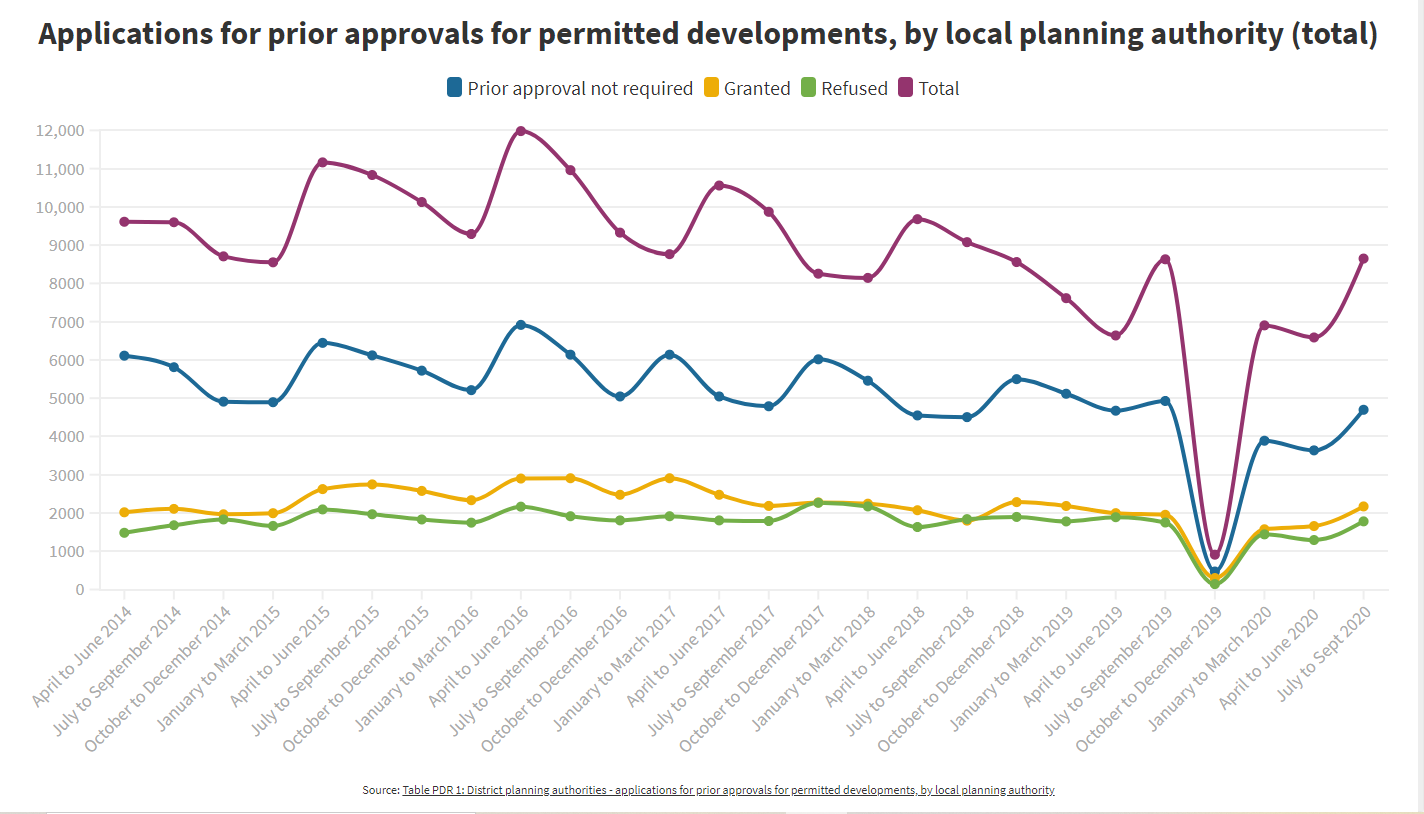 Ben Lloyd, Pure Advisory Group Co-Founder, said:
"We will undoubtedly see a rise in permitted developments over the next 36 months as there will be an unusual amount of business closures in the UK across a variety of sectors, meaning units will become vacant where they were previously let or owner occupied. 
"This will undoubtedly wash more availability into the sales market at both steady market values and at discounted levels where I expect there to be an influx of motivated and distressed sellers entering the market. In turn, we will see the more opportunistic investors looking to acquire and redevelop alternative properties that will need change of use.  
"The stars are going to be pretty well-aligned for opportunistic investors in the change of use real estate space. Exactly how distressed the market will become will no doubt be determined by ongoing state support of businesses and the general state and elasticity of the sectors they are in coming out of that support."
The original dataset can be found here.