Grand Designs Live launches Great British Box Room Competition, sponsored by Crown Paints
Every house has one – and they seem to be a uniquely British aspect to home design: The Box Room. More often than not this small room is left unused, or becomes home to all the things that don't fit anywhere else. This year, Grand Designs Live have launched the The Great British Box Room Competition, sponsored by Crown Paints with a challenge to revitalise and utilise this often-forgotten room. The competition will comprise of a series of 6 installations, each imagined by a different interior designer, which will be on display only at Grand Designs Live, proudly sponsored by Anglian Home Improvements, from 6 – 10 October 2021 at the NEC. This brand-new imaginative and exciting feature hopes to inspire and encourage visitors to bring expert ideas back to their own box rooms, armed with a host of information and new supplier contacts.
The winner of the competition will be announced on the Grand Theatre at the show. The expert judge panel includes Kevin McCloud, a representative from sponsor Crown Paints and other experts in the field of interior design to be announced.
Following a myriad of entries from across the UK, Grand Designs Live has invited six pioneering interior designers to develop and bring their ideas to life at the show, using colour, materials, and patterns to achieve impressive results in small spaces. The finalists, and their proposals are;
Alison Simandl of AS Designed Interiors is a student of KLC School of Design; her love of architecture and interiors inspired her career change to interior designer as demonstrated by the technically structural elements of her box room concept. She said of her unique design; 'I have changed the simple box room into a multifunctional space hidden within the walls. Styled in traditional British wood panelling with bold floral wallpapers, at first the room appears to be a relaxed space, but as panels open new uses for the room are revealed.'
Anna Barber and James Gavigan of House Of Kin aim to create a cosy home library, where adults and children can enjoy time together away from screens and busy lives. This box room will be a refuge to sit, talk, listen and reconnect with imaginations. A pull-out bed and handy storage add additional functionality, making the most of the space. Anna and James said of their design concept; 'In a world filled with screens, we wanted to create a unique, calming and magical moment inspired by books. This small box room can be used by the entire family as a library, guest room, play den, or even a puppet theatre. It's the perfect place for uninterrupted, quality family time.'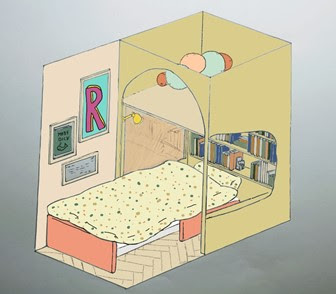 Mariah Maxwell of Mariah Maxwell's Design takes inspiration from the life of Winston Churchill and the time he spent in the basement Cabinet War Rooms during World War II. While this might seem an odd place to find interiors brilliance, Mariah's vision comes to life through what she imagined he was dreaming of down there in the gloom; of a morning stroll through the enchanted Forest of Savernake, away from the war, surrounded with the spectacular wild leaves, thistles and magical astreas. This room will be a holistic sanctuary of peace and beauty with multiple uses from a library to a games room, or perhaps a whiskey and cigar room in homage to the man who inspired it. Mariah says of her magical design; 'Holistic means that each part of our body and soul is intimately interconnected with the habitat we create around us. My room design aims to celebrate all the British environmental and earth friendly manufacturing who respect our beautiful green planet.'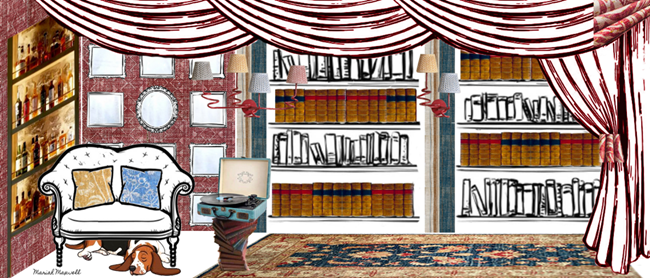 Lorna Lancashire has transformed her tiny room from a used space into a cosy lounge room, perfect for complete relaxation and indulging in some TV or getting stuck into a good book. Traditional elements like wall panelling mix with perfectly plush furnishings, to create a truly cosy space with more than a touch of class. Lorna remarked on her concept; 'I wanted my box room to be a little jewel in the house, a snug area where you can settle down and enjoy a good book or watch TV. A sense of Great Britain is seen via traditional panelling and quirky accessories from union flag cushions to gold British bulldogs.'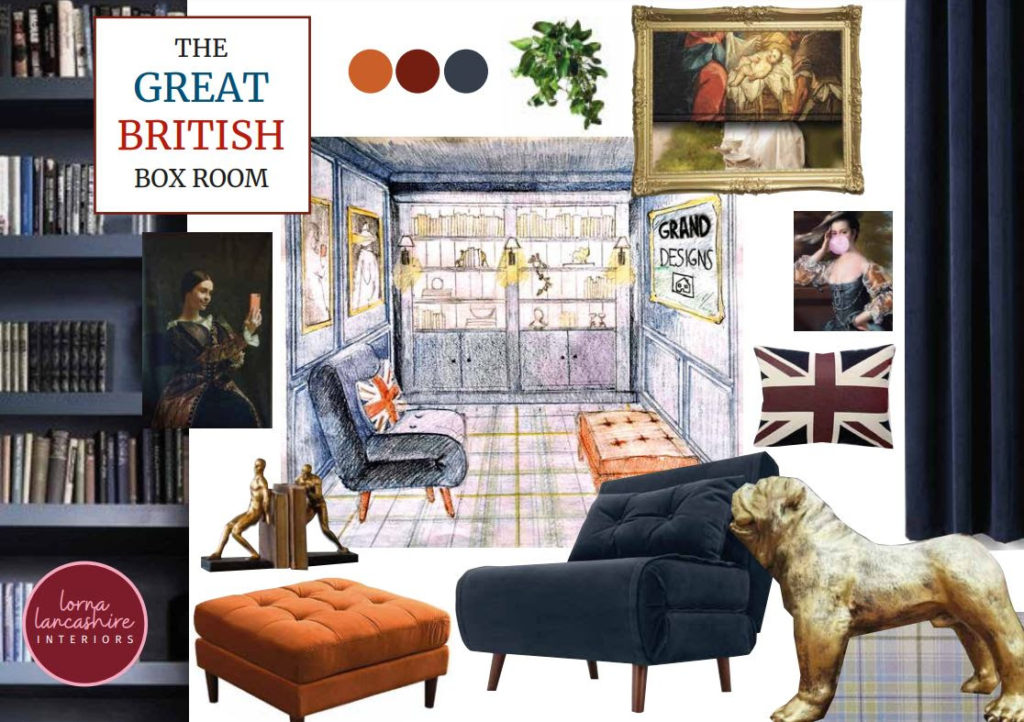 Penny Johnson of Penny Ann Interiors' box room has been inspired by the 1965 'British Invasion' of British rock and pop music to America. This Great British Box Room provides an escape from the everyday, a chance to relive the vibrant freedom of the 1960s post war era but mostly, an opportunity to be immersed in an era that was truly Great for Britain.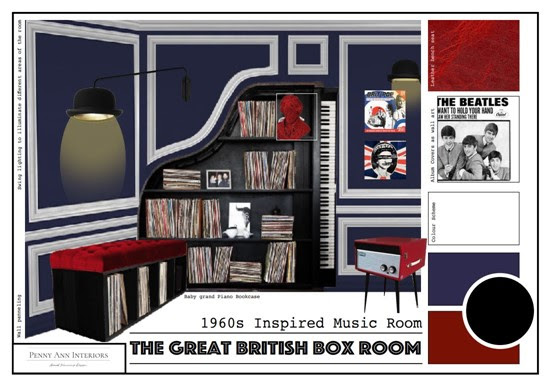 Chetna Balla of Comfort Being Ltd's room will become an inviting and stylish space perfect for reading, relaxing with a cup of tea after a long day or taking time out of a hectic lifestyle to simply relax. Blue tones and plush textures create a sense of calm and a relaxed ambience. Chetna says of her vision; 'The journey from 'Box Room' to 'My Space' is that of a neglected room being transformed into an inviting leisure space where life's little pleasures are welcome. Blue for the room is inspired from the British flag. It lends itself to create a sense of calm and a relaxed ambience.'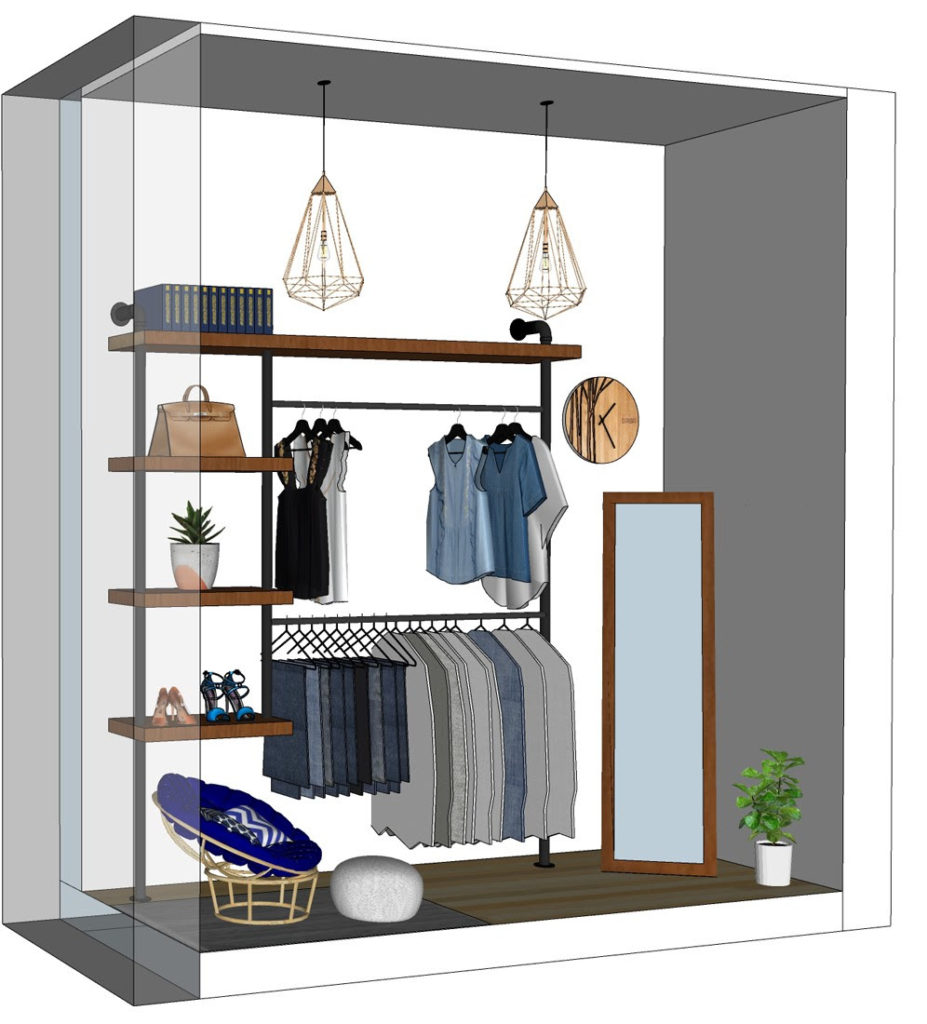 Designs from all six finalists will be on display at Grand Designs Live, at The NEC, from 6 – 10 October 2021.